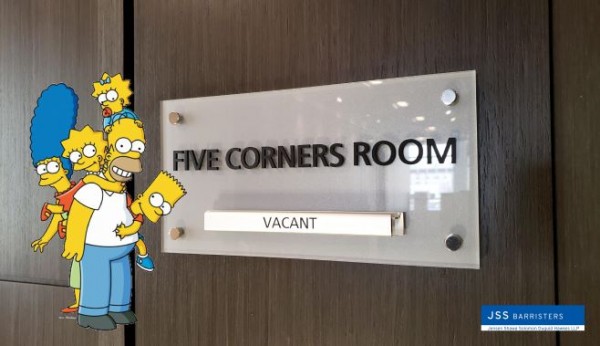 Last summer, we wrote a feature about our breakout rooms, the Roy Snyder and the Hutz. Those rooms are an accompaniment to the main feature of our firm's 7th floor: the Five Corners Room, a state-of-the-art hearing room.
Named for the famous intersection of five state borders near the city of Springfield, it was the proposed site of Sideshow Bob's "perfect murder", and it was a quick stop for the Simpson family on their way to Itchy & Scratchy Land.
Our Five Corners Hearing Room, similar to the latter example, is aimed at facilitating the resolution of corporate and commercial disputes, even if your matter is as contentious as the Simpson's household can be at times. The room includes: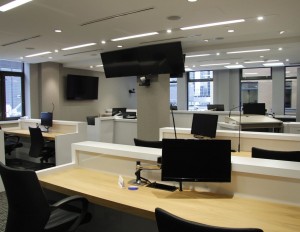 An arbitrators' dais for up to 3 arbitrators with individual screens, storage drawers and shelves;
Five counsel tables for seating up to 3 people each, also equipped with individual screens and storage options;
A witness stand with room for two witnesses;
A clerk's desk;
Video and teleconferencing capabilities; and
Audio and video recording capabilities.
In combination with the Roy Snyder and Hutz breakout rooms, the 7th floor houses all the amenities one needs to facilitate an amicable resolution for all parties.
Our partners are also available for arbitrator and mediator appointments for both in-person and virtual proceedings, including the use of our facilities. The members of our alternative dispute resolution team are more than happy to answer any questions you may have about our practice.