Education
2017
Osgoode Hall Law School, LL.M.
2016
University of Aberdeen, Scotland, LL.B.
2014
Middlesex University, London, BA (Law)
Memberships
Canadian Bar Association
Federation of Asian Canadian Lawyers
South Asian Bar Association
Community
United Nations High Commissioner for Refugees (UNHCR) Canada
Member - Young Leaders Committee (ON)
Global Lawyers Canada (Calgary Chapter)
Director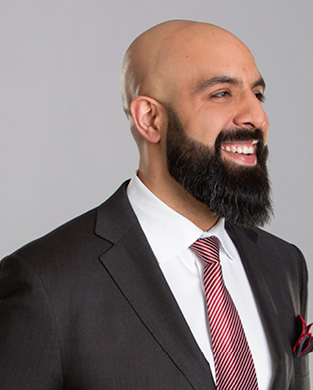 Angad is an associate at JSS Barristers. He was born and raised in Calgary, Alberta. Angad graduated from Middlesex University in London, England with a Bachelor of Arts in Law. He then went on to complete an accelerated LL.B. at the University of Aberdeen in Scotland where he graduated with distinction. Afterwards, he completed an LL.M. at Osgoode Hall Law School in Toronto.
Angad is a member of the United Nations High Commissioner for Refugees (UNHCR) Canada's Young Leaders Committee, as well as director of the Calgary chapter of Global Lawyers of Canada. In addition, he is a member of the Canadian Bar Association, the Federation of Asian-Canadian Lawers and the South Asian Bar Association. In his spare time, Angad enjoys spending time with his friends and family. He loves to travel, read, lift weights and enjoys everything related to basketball and football. His love of the Toronto Raptors knows no bounds.
---
Experience
Prior to joining JSS Barristers, Angad interned at the International Criminal Court in the Hague. He worked in the Immediate Office of the Registrar. The Registrar is one of the three elected principals of the Court and the head of its largest organ. He received most of his work from the Registrar's Chief of Staff. While at the International Criminal Court, Angad worked on a variety of tasks such as providing support for internal and external negotiations and consultations; assisting with the proposed programme budget of the Court for 2020, as well as the implementation of the 2019 budget; helping organize and publish the Court's internal legal framework; and working with external consultants to analyze and review the Court's disciplinary and administrative legal frameworks. Angad also drafted speaking points, speeches, memos and other documents, as well as note verbales and letters to embassies and other parties.
---
Publications
JSSBarristers.ca, May 13, 2020
Co-Author (with Christa Nicholson)
JSSBarristers.ca, April 15, 2020
Co-Author (with Andrew Wilson)