Education
Ongoing
Pepperdine University – Master of Laws LL.M.
1991
Queen's University – Juris Doctor
1987
University of Calgary - Bachelor of Arts (with distinction)
Memberships
Member of the Board of Directors of the International Women's Insolvency & Restructuring Confederation, Western Canada network
(2016 to present)
Member and Organizer of the Saint Thomas More Lawyers' Guild of Calgary which organizes an interfaith event for the legal profession and anyone associated with the administration of justice
Law Society of Alberta
Canadian Bar Association: Insolvency, Litigation, ADR, Wills and Estates, and Foreclosure subsections
Turnaround Management Association, Northwest Chapter
Canadian Insolvency Foundation
American Bankruptcy Institute
INSOL International
International Energy Credit Association
ADR Institute of Alberta
ADR Institute of Canada
IR Global
Teaching Roles
Facilitator/Instructor - Oral Advocacy
Canadian Centre for Professional Legal Education (CPLED), October 6, 2010
Co-Instructor - ADR One Week Intensive Law School Course
University of Calgary, Faculty of Law, Calgary, Alberta, January 2009
Community
Calgary Legal Guidance (15 years: case worker/Board Member); HomeFront (2 years: Board Member); Lycee Louis Pasteur (2 years: child's school class representative); Fernie Alpine Ski Team (8 years: parent, volunteer); cancer fundraising (2 years: raised over $20,000).
Awards & Recognition
2022
Queen's Platinum Jubilee Medal (AB)
2022
Queen's Counsel Designation
(now King's Counsel)
2010 - 2023

Best Lawyers
Alternative Dispute Resolution
2014 - 2022
Benchmark Litigation
Litigation Star
2019
Who's Who Legal
Restructuring & Insolvency (Canada)
Recommended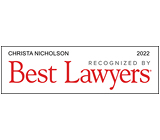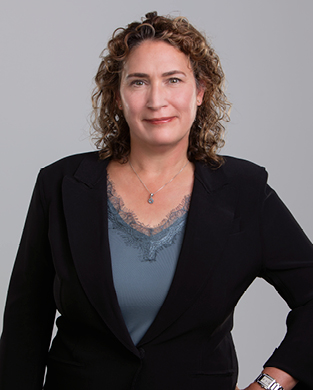 Partner, Christa Nicholson, is a keen and driven problem solver with over 25 years of legal experience.
She is focused on helping large, medium and small corporations, and partnerships - as well as individuals - effectively and efficiently manage and resolve insolvency situations and commercial, civil, human and constitutional rights disputes through:
Litigation, including seeking urgent, real-time injunctions, judicial review and other relief; and

Alternative dispute resolution, including negotiation, mediation and arbitration ("ADR").
Education
Christa is a native Calgarian. She obtained her Bachelor of Arts degree (B.A. with distinction) from the University of Calgary and, in 1991, her law degree (J.D.) from Queen's University in Kingston, Ontario. She returned to Calgary to begin her legal career, articling and then becoming an associate and partner at Blake, Cassels & Graydon LLP where she worked for over 17 years. Thereafter, she was a partner at Osler, Hoskin & Harcourt LLP for three years.
She joined the JSS Barristers partnership on October 1, 2013. She is in the process of completing her Masters of Law degree (LL.M.) in dispute resolution from Pepperdine University, California.
Civil Litigation Career
Christa's significant experience in the insolvency and restructuring area includes work in many industry sectors on:
Bankruptcies including

Bankruptcy and Insolvency Act

("BIA") proposals;

Companies' Creditors Arrangement Act

("CCAA") restructurings;

Receiverships under the BIA and other legislation;

Loan recoveries and security enforcement;

Large landlord and tenant disputes;

Insolvency-related class actions;

Cryptocurrency- related insolvencies; and

Commercial and residential mortgage foreclosures.
She has acted and does act on many noteworthy insolvency matters representing:
Debtors from various industries and sectors including (including energy and energy services, manufacturing, agriculture, and dental);

Secured and unsecured creditors from various industries (including energy and energy services, manufacturing, recreation, transportation, and agriculture);

Joint venture partners;

Energy regulators; and

Officers of the court, including court-appointed Receivers and bankruptcy trustees.
Christa also represents clients in complex commercial, contract, energy, real estate, product liability, estates, shareholder and creditors' rights disputes, as well as regarding human rights and constitutional law issues. She has experience acting on joint venture, operatorship, and accounting disputes and breach of contract and tortious disputes relating to oil and gas transactions, including in the renewable energy and derivatives fields, and on international and domestic arbitrations as well as on judicial and private mediations involving energy and other companies. Throughout the COVID pandemic, Christa has advised clients as to human and constitutional rights issues. She is a mediator on the roster of the Alberta Provincial Court and has appeared before all levels of the Alberta Courts.
She is keenly aware of the focus of organizations and individuals on value and results when it comes to purchasing legal services. She has written and/or presented extensively in the fields of insolvency and restructuring law and ADR, including international and domestic arbitration, mediation, and managing legal costs through the systematic use of ADR in the design and use of dispute management systems.
Experience in Insolvency and Restructuring
Acting in CCAA, receivership and bankruptcy proceedings, including debtors, secured and unsecured creditors, joint venture partners, agents, regulators, bidders/purchasers, court-appointed and private receivers, and bankruptcy trustees, including on the following matters:
Dominion Diamonds
Just Energy
Coalspur Mines
Redwater Energy
Bellatrix Exploration
Canada North Camps

Air Canada

Algoma Steel

Caribou Resources

Challenger Energy and Canadian Superior

Hurricane Hydrocarbons

Oilexco

SemCanada Group

Skiing Louise

Skyreach

Trident Exploration
Ranch Energy

Lexin Resources

LGX Oil and Gas

Regent Resources

Grand Valley Resources

Pacer Promec Energy

RNG Group

Perera

Kyoto Fuels Corporation

3 Eau Claire Developments

Terra EnergyMerit Energy

CanEnerco

M3 Energy

Launch Resources

Atcon Construction

Cash Store (affiliate)
Experience in Litigation and Alternative Dispute Resolution
Energy
Counsel for regulators, including the Alberta Energy Regulator ("AER"), in several unique, highly contested, urgent separate matters at the Alberta Court of Queen's Bench and the Alberta Court of Appeal respecting Lexin Resources Ltd. which involved: (1) the first instance of the AER ever petitioning an oil and gas operator into receivership; (2) a unique, successful application to prohibit Lexin from continuing unauthorized and unsafe activities pursuant to s. 19 of the

Responsible Energy Development Act ("REDA")

; and (3) opposing applications by Lexin for

Companies Creditors' Arrangement Act

insolvency protection, for a mandamus order requiring the AER to remediate Lexin's oil and gas properties, and challenging the constitutionality of REDA provisions and the right of Lexin to advance a counterclaim against the AER for $200 million. The issues are at the confluence of insolvency and regulatory law, including concerning the AER's ability to implement its public protection mandate when dealing with an insolvent operator.

Counsel for the Orphan Well Association in insolvency matters relating to the oil and gas industry, including in Re LGX Oil & Gas Inc. and at the Alberta Court of Appeal in the insolvency of Regent Resources Ltd.

Successfully obtaining a unique urgent receivership order under the AIPN in respect of substantial offshore joint venture assets.

Acting on energy disputes involving joint venture and operatorship issues and various breach of contract and tortious disputes relating to energy transactions including in the renewable energy sector.

Defense of a complex derivatives-related claim exceeding $100 million.

Advising and litigating with respect to accounting disputes and set-off issues.

Advising on and litigating contractual deposit disputes.
International Including Enforcement
Co-counsel in UNCITRAL international arbitration proceedings in Stockholm, Sweden.

Advancing proceedings in Alberta to have recognized and enforced arbitration awards and advising with respect to the enforcement of foreign judgments.

Advising with respect to commencement of international arbitration in the London Court of International Arbitration and ancillary local interim measures proceedings in the Alberta courts.

Advising on procedural issues (e.g. letters rogatory) respecting international litigation.

Acting as counsel in local and other litigation involving international arbitration and the provision of advice to clients regarding the New York Convention, the Model Law and the drafting of arbitration and other dispute resolution clauses.

LL.M. participant in the London/Geneva and Hong Kong/Beijing study tours gaining valuable international litigation, arbitration and mediation expertise and cultural diversity awareness.

Domestic ADR including Dispute Management Systems Design.

Counsel on mediated cases, Judicial Dispute Resolution matters, and mediator on the Alberta Provincial Court roster.

Provision of drafting advice with respect to stepped dispute resolution clauses and economical litigation agreements.

Deep knowledge of current corporate trends in dispute management and systematic use of ADR processes (including the use ADR suitability screens and early case assessment) to more cost-efficiently manage disputes and how to design such systems.
Contract Disputes
Acting on breach, frustration, force-majeure contract disputes and advising on and litigating contractual deposit disputes

.
General Commercial Litigation
Including real-time urgent injunctions; acting on shareholder and business and director liability disputes; dental business disputes; disputes involving breach of trust, conversion, breach of franchise agreements and construction.
Creditor's Rights
Acting for secured and unsecured creditors and lenders, including banks and financial institutions, in the recovery of funds and relating to real property mortgages.
Real Estate
Acting for landlords and tenants, unsecured creditors, lenders and mortgage insurers, including banks and financial institutions, respecting commercial office, residential, condominium, hotels, and other real property.
Estates
Acting for personal representatives, executors, trustees and beneficiaries in wills, dependent adult, and trust disputes to efficiently devise a strategy and path to solution through litigation or ADR.
Products
Acting for manufacturers in various industries including in the fields of pharmaceutical products, medical devices and automotives in the defense of numerous and multi-million dollar lawsuits.
Human Rights and Constitutional Issues
During the COVID pandemic, acting for and advising various clients respecting human rights and constitutional issues.
Awards
Consecutively, since 2014, Christa has been named Litigation Star by Benchmark Litigation. She has also been recognized in Alternative Dispute Resolution by Best Lawyers (2010-2022). Additionally, in 2019, she was Recommended for Restructuring & Insolvency (Canada) by Who's Who Legal.
In 2022, Christa was nominated for, and received, the Queen's Platinum Jubilee (Alberta) Medal by the Alberta Ministry of Justice and Solicitor General. The Medal commemorates the 70th anniversary of Her Late Majesty Queen Elizabeth II's accession to the Throne as Queen of Canada, and is given in recognition to those whose dedication to outstanding public services mirrored that of Her Late Majesty.
Personal
In a former life, Christa played varsity volleyball at university and participated internationally in triathlon. Christa currently enjoys skiing (especially in Austria and Fernie, B.C.), cycling and, most recently (and with limited proficiency), golfing with family and friends.
Publications
JSSBarristers.ca (also published on Lexology.com), September 22, 2020
Author
JSSBarristers.ca, May 14, 2020
Co-Author (with Kaila Eadie)
JSSBarristers.ca, May 14, 2020
Co-Author (with Kaila Eadie)
JSSBarristers.ca, May 13, 2020
Co-Author (with Angad Bedi)
JSSBarristers.ca, April 27, 2020
Author
"The Myth of Splitting The Baby"
The Lawyers Weekly, Vol. 35, No. 11, July 17, 2015
Author

"Dispute Management Systems - How They Can Add Value"
ADR Institute of Canada Inc., ADR Perspectives, Volume 1, No. 1 - March 2014
Author
"Managing Litigation in Corporations and Organizations"
November 2012 (LL.M. academic paper)
Author
"International Commercial Arbitration: A Case Study"
November, 2011 (LL.M. academic paper)
Author
"Effectively Negotiating with Commercial Litigators About Mediation"
Working paper, November 10, 2010 (LL.M. academic paper)
Author
"On Educating Practicing Lawyers About Apology Law"
Working paper, May, 2010 (LL.M. academic paper)
Author
"Insolvency Changes North of the Border"
Osler Franchise Review, May, 2010
"Canada Chapter, The International Comparative Legal Guide to: International Arbitration 2007"
2007 edition of The International Comparative Legal Guide to International Arbitration, London: Global Legal Group Ltd.
Co-Author
"Corporate Governance, Liquidation Sales and More: The Alberta CCAA Restructuring of Skyreach Equipment Ltd."
The Annual Review of Insolvency Law 2005, Janis P. Serra (ed), 2006, Toronto: Thomson Canada Limited
Author
Speaking Engagements
Co-Presenter
"The Drama of an Insolvency Played Out (otherwise known as Insolvency 101)", Ovintiv Services Inc., June 25, 2021.
Presenter
"SCC Redwater Decision - what you need to know", Wake Up with JSS Barristers - Speaker Series, March 7, 2019
Presenter
"The Redwater Case: The Concerns of the SCC", International Energy Credit Association (IECA), 26th Annual Canadian Conference, June 10-13, 2018
Presenter
"The Redwater Case En Route to the SCC", Food For Thought, JSS Barristers, January 31, 2018
Commentator
"Redwater Redux" Panel, Annual Review of Insolvency Law Conference, Vancouver, February 8 and 9, 2018
Presenter
"Insolvency Issues: The Redwater Case and Beyond", 25th Annual IECA Canadian Conference, June 11-14, 2017
Presenter
"Bankruptcy and Restructuring 2016", Virtual Roundtable, Corporate Live Wire (with representation from: Baker McKenzie; Anderson Mori & Tomotsun; Proskauer Rose LLP; Roschier, Attorney Ltd.; Miller Thomson LLP; and Jones Day), December 2016
Presenter
"Lower for Longer? Insolvency Issues: what you need to know now", Wake Up with JSS Barristers - Speaker Series, February 9, 2016
Presenter
"King Solomon and 'Splitting the Baby': Myth or Reality in Litigation and Arbitration?", ADR Institute of Canada Inc., Montreal, Quebec, October 23, 24, 2014
Presenter
"Dispute Management - How More Systematic Use of Alternative Dispute Resolution Process Can Add Value", Canadian Corporate Counsel Association - Corporate Counsel Calgary Section, November 28, 2013
Presenter
"Designing Conflict Resolution Systems: Cutting Litigation Legal Spend", December 2012
Presenter
"Enforcing on International Credit Support-What You Need To Know", 19th Annual Canadian Conference of International Energy Credit Association, June 7, 2011
Co-Presenter
"Arbitration Update", ADR Institute of Alberta, April 2, 2011
Co-Presenter
"Roundtable Discussion: Alberta Rules of Court Amendments and Insolvency Practice", Osler, Hoskin & Harcourt LLP, November 19, 2010
Presenter
"Insolvency Issues in the Oil and Gas Patch - What You Need to Know", Insight 8th Edition Energy Contracts, presenter, September 2010
Co-Presenter
"Getting the Right ADR Clauses into Your Business Agreements", ADR Institute of Canada, September 23, 2010
Presenter
"Insolvency Primer", Osler, Hoskin & Harcourt LLP, July 7, 2010
Co-Presenter
"Meeting the Special Challenges of Oil Patch Insolvencies", The Canadian Institute's Western Canadian Advanced Insolvency Law and Practice Conference, Vancouver, September 17, 2009 (co-presenter with Deloitte & Touche Inc.)
Co-Presenter
"Hot Topics In Insolvency Law", EnCana Corporation, June 18, 2009
Co-Presenter
"The Expanding Reach of the CCAA", IECA, June 16, 2009; and Professional Credit and Finance Association of Calgary, June, 16, 2009
Co-Presenter
"Avoiding and Minimizing Canadian Construction Disputes", Roundtable, Blake, Cassels & Graydon LLP, Calgary, Alberta, September 11, 2008
Co-Presenter
"Bankruptcy and Insolvency Primer for the Energy Sector", Blake, Cassels & Graydon LLP client seminar, Calgary, Alberta, April 23, 2008
Co-Presenter
"Enforceability of Foreign Guarantees: will your foreign guarantee be worth merely the paper it is written on?", EnCana Corporation, December 6, 2006
Co-Presenter
"International Enforceability of Judicial and Arbitral Decisions", Shell Canada Limited, October 11, 2006
Co-Presenter
"What Commercial Lawyers Need To Know About International Commercial Arbitration Clauses", Blake, Cassels & Graydon LLP national videoconference May 16, 2006
Presenter
"Introduction to Enforcement of Foreign Judgments and Arbitral Awards", Canadian Bar Association, International Business Section, April 20, 2006
Co-Presenter
"Fundamentals of Canadian Bankruptcy and Insolvency Law", Advanced Insolvency Law & Practice, The Canadian Institute, Calgary, Alberta, September 28, 2005
Co-Presenter
"Introduction to Enforcement of Foreign Judgments and Arbitral Awards", TransCanada Pipelines Limited, June 28, 2005
Co-Presenter
"Agricultural Update Seminar for CIBC Retail Risk Management Group", Blake, Cassels & Graydon LLP and PriceWaterhouse Coopers Inc., Calgary (May 3, 2004); Ontario (May 4-6, 2004)