Bar Admissions
2010
Upper Canada
2012
Alberta
Education
2009
University of Calgary, Juris Doctor
2004
McGill University, BA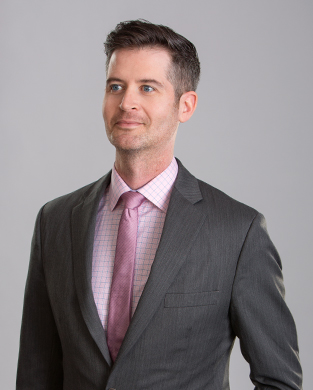 In 2012, Sean Carrie joined JSS Barristers as an associate; he is now counsel. Sean's practice extends to all areas of civil litigation, with a primary focus on Class Proceedings and mass-tort claims.
He is especially interested in claims involving privacy/data security issues and those dealing with First Nations issues.
Education
Sean was born in Calgary and grew up living in Calgary, Victoria and Hong Kong. He obtained his Bachelor of Arts degree, in political science, from McGill University in 2004. While pursuing his studies, Sean played an active role in student affairs, as an editor at the university newspaper, and served as Vice-Chair of the Board of Directors of Canadian University Press.
Following completion of his undergraduate studies, Sean worked at the National Post in Toronto. There - in addition to his editing, fact-checking and re-writing responsibilities - he wrote a daily column for publication in the Arts & Life section and contributed other articles to the publication on a regular basis.
In 2006, Sean returned to Calgary to attend law school at the University of Calgary, where he obtained his J.D. in 2009. In law school, he served as a clinical caseworker at Student Legal Assistance and as a contributing editor for the Alberta Law Review. Additionally, Sean participated in the mooting and debating programs, where he and his partner won the SLA Trial Competition for first-year law students. Sean received the faculty's Legal History prize in 2009.
Experience as Counsel
Sean articled with the Toronto-based Association in Defence of the Wrongly Convicted (AIDWYC - Now Innocence Canada). After completing his articles in 2010, he was called as a member of the Law Society of Upper Canada and remained at AIDWYC as its first Case Management Counsel. In that role, he assisted in the review of claims of wrongful conviction arising from jurisdictions across Canada and the United States. He also assisted in complex criminal and constitutional litigation in the Superior Court of Ontario, the Ontario Court of Appeal, and the Supreme Court of Canada.
Personal
Sean enjoys gardening, running, reading, painting and birdwatching in his spare time. He continues to take interest in travel, especially in the developing world.
司马钦
司马钦律师出生在卡尔加里,并曾在卡尔加里、维多利亚和中国香港居住。司马律师于 2004 年获得麦吉尔大学的文学学士学位(政治学专业)。在校期间,司马律师曾担任大学校报的编辑,还成为了加拿大大学出版社的董事会副主席。
完成本科学业后,司马律师曾在多伦多的国家邮报 (National Post) 工作。除了编辑、事实核查和改写职责之外,司马律师还在"艺术与人生"部门担任过出版物的每日专栏作者,并为该出版物定期撰写其他文章。
2006 年,司马律师返回卡尔加里,并在卡尔加里大学法学院就读,后于 2009 年获得法学博士学位。在法学院期间,司马律师曾在学生法律援助协会担任临床社工,为低收入群体提供免费法律服务。司马律师还担任过阿尔伯塔法律评论的特约编辑。此外,司马律师参加了模拟法庭和辩论活动,他和他的合伙人曾在面向大一法学生的 SLA 模拟法庭 (SLA Trial Competition) 比赛中获胜。司马律师在 2009 年获得了法学院的"法律史奖"。
从法学院毕业之后,司马律师在多伦多的错误定罪辩护协会 (AIDWYC) 实习,并在 2010 年取得了安大略省的律师执照。取得律师执照之后,司马律师继续留在 AIDWYC 工作,并担任该组织的首个案件管理顾问。担任此职位期间,司马律师协助审查了加拿大和美国各地管辖范围内的错误定罪要求。他还曾协助安大略省高等法院、安大略省上诉法院和加拿大最高法院处理复杂的刑事和宪法诉讼。
司马律师于 2012 年加入 JSS 担任诉讼律师一职。
司马律师喜欢在空闲时间打理花园、跑步、阅读、绘画和观鸟。他一直很喜欢旅行,尤其喜欢前往发展中国家。
主要执业领域
公司和商业诉讼
集体诉讼
权利宪章和宪法
破产和重组
语言
普通话
英语