Education
2003
Queen's College, Cambridge University, Master of Laws
2001
Dalhousie University, Bachelor of Laws (Dean's List)
1998
University of Waterloo, BA Economics (Dean's List)
Memberships
Canadian Bar Association
The Advocates Society
Teaching Roles
Tutor, Civil Procedure
University of Calgary Faculty of Law, 2016-2018
Community
Calgary Humane Society
Board Member
(2016 - present)
Law Society of Alberta
Member - Conduct Committee
(2018 - present)
Canadian Bar Association
Chair - Securities Sub-Section, Alberta South
(2019 - present)
Awards & Recognition
2017 - 2022
Benchmark Litigation
Litigation Star
2021 - 2022
Best Lawyers
Corporate and Commercial Litigation
2021
Who's Who Legal
Future Leader
Arbitration Canada
2020 - 2021
Lexpert
Repeatedly Recommended
Litigation - Securities
2016
Benchmark Litigation
Future Star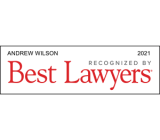 Andrew received his Bachelor of Arts degree in Economics from the University of Waterloo in 1998, where he achieved Dean's List standing. He then obtained his Bachelor of Laws degree from Dalhousie University in Halifax in 2001. He again achieved Dean's List standing and was the recipient of numerous scholarships and awards
Andrew was called to the Alberta bar in 2002.
After completing his articles Andrew obtained his Master of Laws degree from Queens' College, Cambridge University, England in 2003. Andrew obtained a specialization in commercial law while at Cambridge.
Andrew joined JSS Barristers in 2014. Andrew's practice focuses on complex commercial litigation, class actions, securities litigation, representing individuals and corporations charged with regulatory offences, in both the administrative and criminal context, and construction litigation.
Since returning to private practice, Andrew has represented clients in all levels of Court in Alberta and other provinces, and has represented clients before the ASC, other provincial securities commissions, the U.S. Securities and Exchange Commission, the Mutual Fund Dealers Association of Canada, and the Investment Industry Regulatory Organization of Canada.
In his spare time, Andrew enjoys running, playing soccer, skiing, home brewing beer and travelling. Andrew and his wife volunteer with Beagle Paws, a beagle rescue organization. Andrew is also a board member of the Calgary Humane Society.
---
Experience
Upon graduation from Dalhousie, Andrew clerked at the Alberta Court of Appeal and the Alberta Court of Queen's Bench, completing his articles at Bennett Jones. This experience has given Andrew a unique insight into how judges assess the matters that come before them, an insight he has incorporated into his practice.
After completing his LLM, Andrew returned to Bennett Jones, and practiced as a litigation associate until 2010. During that time Andrew gained significant trial and arbitration experience, with a focus on corporate commercial litigation, including securities matters, oppression claims, intellectual property and construction litigation.
In 2010 Andrew joined the Alberta Securities Commission (ASC) as Enforcement Counsel, Litigation. In his role as Enforcement Counsel, Andrew prosecuted offences under the Alberta Securities Act, in both the administrative/regulatory and quasi-criminal contexts.
Andrew prosecuted all manner of securities offences while with the ASC, with a particular focus on illegal insider trading, fraud and illegal distributions. He was lead counsel on some of Alberta's (and Canada's) most significant illegal insider trading cases.
Andrew joined JSS in March 2014. Andrew's specific litigation focus is on complex commercial and securities disputes, regulatory defence, class actions, oppression remedy claims and derivative actions and construction disputes.
Andrew has also advised clients on securities compliance and corporate governance matters. He has also assisted clients by running internal investigations into potential legal or regulatory breaches.
Andrew has significant trial, court, arbitration and regulatory experience. Andrew has appeared successfully as lead counsel before all levels of Court in Alberta, including the Provincial Court criminal division, and has significant experience before the regulatory tribunals of the ASC. He has appeared as counsel before the Federal Court, Federal Court of Appeal and the superior courts of other provinces. Andrew also has experience dealing with the United States Securities and Exchange Commission, the Ontario Securities Commission and the British Columbia Securities Commission. Andrew has also acted as lead counsel in both domestic and international arbitrations.
Andrew has written papers and given seminars and presentations on securities litigation matters, to both private practitioners and regulatory bodies throughout North America. He has given presentations and seminars on class actions, oppression claims and construction litigation matters. Andrew also previously acted as a tutor in Civil Procedure at the University of Calgary Faculty of Law, and has given seminars to law students on cross-examination and trial advocacy.
---
Publications
JSSBarristers.ca, July 7, 2020
Co-Author (with Randell Trombley)
JSSBarristers.ca, April 15, 2020
Co-Author (with Angad Bedi)
"Advertising and the Charter: Just Do It?"
An Analysis of the Constitutional Recognition of Commercial Expression, 2000 CanLIIDocs 9 (Dalhousie Journal of Legal Studies)
---
Speaking Engagements
Interviewee
"Secrecy shrouds fraud case against Canadian Cannabis Corp."
Globe & Mail, July 26, 2021
Co-Presenter (with Kaila Eadie)
"Managing Civil Litigation Matters During COVID-19" (webinar)
Legal Education Society of Alberta, May 12, 2020.
Presenter
"Who Likes Short Shorts?"
Discussing Appropriate and Inappropriate Conduct of Short Sellers in the Eyes of the Securities Commissions Advocates Society 9th Annual Securities Symposium, September 5, 2019
Presenter
"Certification Decisions in Common Law Misrepresentation"
Osgoode Hall 14th National Symposium on Class Actions, April 6 – 7, 2017
Presenter
"For Your Eyes Only?"
Protecting Privilege in Securities Investigations
Advocates Society 6th Annual Securities Symposium, September 12, 2016