Education
2006
University of Technology, Sydney, Australia, LLM - major in dispute resolution
1990
University of Alberta, LLB
1987
University of Calgary, BSc - chemical engineering
Memberships
ADR Institute of Alberta
ADR Institute of Canada
Calgary Bar Association
Canadian Bar Association
Chartered Institute of Arbitrators
Law Society of Alberta
Litigation Counsel of America
Western Canada Commercial Arbitration Society

Chartered Institute of Arbitrators, Canada Branch 2017 - present
Member of Branch Executive Committee

Chartered Institute of Arbitrators, Alberta Chapter 2017 - present
Chair of the Chapter Executive Committee

Legal Education Society of Alberta 2012 - present
Member of Board of Directors

Certus Strategies and Canadian Dispute Resolution Corporation 1997 – 2004, 2006 - 2008
Included on roster of mediators

Law Society of Alberta 2004
Insurance Committee Member

Resicare Society of Calgary 1994 - 2003
Member of Board of Directors (including several terms as President)

Law Society of Alberta 2000 – 2003
Conduct Committee member

Alberta Energy Regulator 2003 - present
Included on roster of mediators

Alberta Justice Provincial Court 1998 - 1999
Included on roster of mediators, Civil Claims Mediation Program

Better Business Bureau 1996 - 1998
Included on roster of mediators, Mediation Program
Teaching Roles
Ad hoc advisor (1999 – 2002), Community Advisory Board: member (2002 – 2006), Chairperson (2006 – 2013), and co-author of two Internet course units
Mount Royal University Forensic Studies Program 1999 - 2013
Guest Lecturer, Civil Procedure (Arbitration)
University of Calgary: Faculty of Law, 2018
Instructor, Advocacy
Canadian Centre for Professional Legal Education, 2012
Guest Instructor, Advocacy
Legal Education Society of Alberta: Intensive Trial Advocacy Workshop, 2009 & 2011
Sessional Instructor, Civil Procedure
University of Calgary: Faculty of Law, 2003 - 2010
Co-Chairperson
Legal Education Society of Alberta: New Lawyer Experience Seminar (2009)
Guest Instructor, Trial Advocacy
University of Calgary: Faculty of Law - Intensive Trial Advocacy Workshop, 2003, 2004, 2008, 2009
Regular Guest Speaker, Nursing and Healthcare in Forensic Populations
University of Calgary: Faculties of Nursing and Continuing Education, 1997 - 2002
Guest Lecturer, Civil Procedure
University of Calgary: Faculty of Law, 2002
Guest Lecturer, Remedies
University of Calgary: Faculty of Law, 2000
Community
Theatre Junction 1996 - 1999
Member of Board of Directors
Awards & Recognition
2014 - 2021
Best Lawyers
Alternative Dispute Resolution
2021
Best Lawyers
Corporate and Commercial Litigation
2021
Best Lawyers
Labour and Employment Law
2020
Best Lawyers
Lawyer of the Year, Calgary
Alternative Dispute Resolution
2014 - 2020
Benchmark Litigation
Litigation Star
2012
Queen's Counsel Recipient
2009
University of Calgary, Faculty of Law
Howard Tidswell Memorial Award for Teaching Excellence (Nominee)
2003
Avenue Magazine
Top 40 Under 40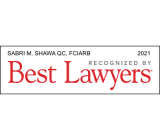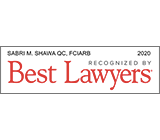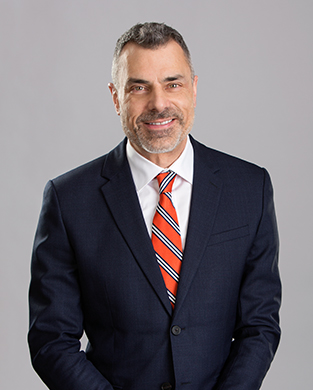 In the nearly three decades Sabri has practiced law in Calgary, he has represented and advised thousands of parties in matters before the courts, a wide variety of administrative and regulatory boards and tribunals, at arbitrations, and in mediations. He is also an arbitrator, mediator and negotiator.
In 2012, Sabri was appointed Queen's Counsel.

In 2014, Sabri was admitted as a Fellow of the Chartered Institute of Arbitrators, an internationally recognized dispute resolution organization. Sabri is also on the executive board of the Canadian branch of the Institute and the chairperson of its Alberta chapter.

Sabri has long been listed by Best Lawyers and was named by it as Lawyer of the Year in Calgary for 2020 for Alternative Dispute Resolution. He is also listed as a Litigation Star by Benchmark Canada for arbitration and dispute resolution, among other things, and has been for many years.

Sabri is a member of the Western Canada Commercial Arbitration Society and a Fellow of the Litigation Counsel of America.
---
Experience
Jensen Shawa Solomon Duguid Hawkes LLP 1995 – present:
Firm Chairman 2008 - 2014
Managing Partner 1997 - 2004
Founding Partner 1995

MacKimmie Matthews 1990 – 1995:
Articling Student and Associate, Litigation Department

Sabri's current practice is comprised primarily of:

Arbitration, Mediation, and Negotiation
The broad scope of Sabri's litigation practice over the years has allowed him to develop a good understanding of many businesses, industries, and endeavours. That familiarity, coupled with Sabri's training in dispute resolution, equips him to serve as an independent arbitrator and mediator in a wide variety of disputes. As part of his relevant formal training Sabri has studied arbitration, international commercial dispute resolution, mediation, and international trade law.

Sabri has been appointed as arbitrator on dozens of occasions, in both administered and ad hoc arbitrations, including through the International Court of Arbitration of the International Chamber of Commerce, with respect to:
construction and engineering projects
natural resource ventures
shareholders, franchise, and partnership agreements
various other commercial contracts
insurance claims and coverage
lease renewal rates
employment and labour relations
umpire determinations under s. 519 of the Alberta Insurance Act
As counsel, Sabri has represented parties in many more arbitrations, concerning a wide variety of maters, both domestic and international, administered and ad hoc. He has appeared as counsel at the International Court of Arbitration of the International Chamber of Commerce. Sabri also has experience drafting submission agreements and arbitration clauses, and has provided advice and opinions on enforceability of arbitration provisions, and appeals and enforcement of awards.

Sabri has been retained to mediate hundreds of disputes and represented parties in many others, including with respect to:
personal injury
insurance claims
shareholder and partner relationships
plant and facilities disasters
construction and project management
professional negligence
employment
medical malpractice
Sabri has also been hired to negotiate a variety of professional services agreements and related arrangements, including large agreements covering hundreds of individuals.

General Commercial Litigation as well as Administrative and Regulatory Proceedings with an emphasis on Engineering, Energy, and the Environment
Sabri is regularly retained to provide advice and representation in respect of claims (in both litigation and arbitration) and regulatory proceedings concerning:
engineering and design faults and failures
construction deficiencies and delays
oil and gas operating and royalty agreements, as well as ownership and rights issues
misappropriation of proprietary technology and data
environmental contamination, nuisance, and remediation and reclamation
electrical transmission and generation
pipelines
contractual disputes and negligence claims involving industrial parties
insurance, including coverage
Employment and Business Relationships
As counsel in litigation, and as an advisor to employers and employees, Sabri provides representation in employment and professional matters, particularly with respect to executives, involving:
wrongful and constructive dismissals
employment issues in restructurings and succession planning
employee misfeasance and misconduct
breaches of confidentiality as well as non-competition and non-solicitation obligations
breaches of fiduciary duties
injunctions
professional negligence claims
professional misconduct and discipline proceedings
admission to professional associations
Sabri negotiates, drafts, and provides advice with respect to:
employment, executive compensation, and independent contractor agreements
services and partnership agreements
employment policies
In addition, Sabri investigates, reports, and advises, on complaints against directors, officers, and employees.

Other Experience
Sabri also has significant experience with:
administrative law
shareholders' disputes
personal injury claims for both plaintiffs and defendants, including catastrophic injuries
medical malpractice claims for plaintiffs and defendants, and other health care related litigation and proceedings
---
Publications
"Civil Procedure Update"
Halsbury's Laws of Canada, First Edition 2011, Alberta Rules of Court, Cumulative Supplement Release 14, LexisNexis
Co-Author
"Mandatory Mediation Under the New Alberta Rules of Court"
Law Matters, Canadian Bar Association, 2011
Author
"Informed Consent Most Difficult"
Lawyer's Weekly: Medical Negligence Issue, 1998
Author
---
Speaking Engagements
Speaker
"Arbitration Pitfalls & Misconceptions", ADR Institute of Alberta Luncheon, 2019
Speaker
"Arbitration Pitfalls & Misconceptions", Alberta Civil Trial Lawyers Association (Calgary and Edmonton), 2019
Speaker
"Basics of Arbitration and Making the Most of Mediation", Derer Lutz, No Longer Alternative Dispute Resolution Symposium, 2019

Speaker
"Limitation Periods of Arbitration", ADR Institute of Canada: ADR to the Rescue of Justice Conference, Montreal, QC, 2018
Speaker
"Limitation Periods of Arbitration", Canadian Bar Association: Calgary Branch - ADR Subsection, Calgary, AB, 2018
Speaker
"Arbitrating the Construction Dispute", York University, Osgoode Hall Law School Professional Development: Certificate of Construction Law - Western Canada Edition, 2016
Speaker
"Arbitration", Canadian Bar Association: Calgary Branch - ADR Subsection, Calgary, AB, 2015
Speaker
"Mediations: Games People Play", Alberta Civil Trial Lawyers Association: Litigation Potpourri, 2015
Speaker
"Arbitration", Central Bar Association, 2015
Speaker
"Evidence Law Refresher (the Rule of Browne v Dunne and Evidence Not Called: The Adverse Inference", Legal Education Society of Alberta, 2014
Panelist
"How to Establish a Successful Litigation Practice", Canadian Bar Association: Alberta Law Conference, 2014
Panelist
"Candid Conversations with Men in Law Round Table Discussion", University of Calgary, 2014
Panelist
"Thinking Outside the Box to Realize ALL Potential Benefits of Commercial Arbitration", ADR Institute of Canada/International Chamber of Commerce Canada Gold Standard in ADR Conference, Toronto, ON, 2013
Panelist and Workshop Instructor
"Evidence for Litigators Seminar", Legal Education Society of Alberta: Advocacy Series, 2011
Moderator
"Financial Experts in ADR", ADR Institute of Canada: Peak Performance in ADR Conference, Vancouver, BC, 2011
Speaker
"Selection, Appointment and Jurisdiction of the Arbitrator," "Scope and Composition of the Award," "Enforcement of Domestic and International Awards," Legal Education Society of Alberta, Arbitration Seminar, 2011
Speaker
"Medical Care for the Gravely Ill - Who Calls the Shots?", Calgary Medical Legal Society, 2008
Interviewee
Interviewed about an injunction I obtained in respect of a comatose patient in respect of whom a do-not-resuscitate order had been made, The National at Six, CBC TV, 2007
Interviewee
Interviewed about an injunction I obtained in respect of a comatose patient in respect of whom a do-not-resuscitate order had been made, Calgary Eyeopener, CBC Radio, 2007

Speaker
"Elective C-Sections - Latest Challenges and Complications", Insight Information Co.: Obstetric Malpractice and Risk Management Conference, Vancouver, BC, 2004
Moderator
"Sexual Torts Panel", Alberta Civil Trial Lawyers Association: Sexual Torts Workshop, 2004
Moderator
Alberta Civil Trial Lawyers Association: Section B Auto Insurance Workshop, 2003
Speaker
"Building the Plaintiff's Case", The Canadian Institute: Litigating Traumatic Brain and Spinal Cord Injuries Conference, Toronto, ON, 2003
Regular Guest Speaker
"Nursing and Healthcare in Forensic Populations", University of Calgary: Faculties of Nursing and Continuing Education, Calgary, AB, 1997 - 2002
Speaker
"Use of Experts in Accident Reconstruction", Canadian Institute: Claims Litigation Conference, 2002
Regular Speaker
"Legal Liability, Insurance and Screening Practices for Not-For-Profit Organizations", Volunteer Calgary, Calgary, AB, 1997 - 2000
Panelist
National Dispute Resolution Conference: Conflict Solution, 2000
Speaker
"Standard of Care, Consent and Limitation Period Issues", Lexpert: Medical Negligence Conference, 1998
Speaker
"Informed Consent", Canadian Bar Association: Health Law Subsection, 1998