Education
2016
University of Alberta JD (With Distinction)
2013
University of Guelph
MA (With Honours)
2011
University of Guelph
BA (With Honours)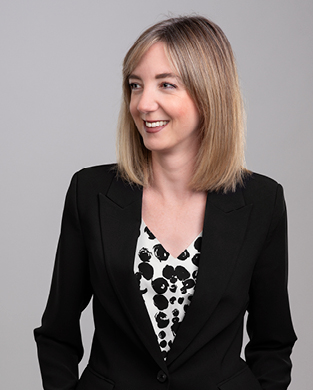 Robyn Graham practices in general civil litigation, maintaining a broad practice with specialized focus in areas of administrative law, construction law including builders' liens, professional negligence, corporate & commercial litigation, environmental and oil & gas litigation.
Education
Originally from Paris, Ontario, Robyn graduated from the University of Guelph with a Bachelor of Arts, with Distinction, in History as well as a Master of Arts, with Distinction, in History. Upon relocating to Alberta, Robyn graduated from the University of Alberta with a Juris Doctor, with Distinction.
Civil Litigation Experience
Robyn joined JSS Barristers in 2021 after articling and practicing at a reputable regional firm in Edmonton, Alberta. During her time there, she obtained significant experience in civil litigation and family law. Robyn continues to represent both individual and corporate clients in the Provincial Court of Alberta, Court of Queen's Bench of Alberta, Court of Appeal of Alberta, the Federal Court of Canada and various administrative tribunals and boards. Robyn approaches her practice with logical sensibility and with a client-centered approach that focuses on cost-effectiveness, efficiency and candor.
Community
Robyn has been heavily involved in volunteering with the Edmonton Community Legal Centre, Civil Claims Duty Counsel and Student Legal Services, an organization which assists low-income individuals and families in attaining access to justice.
Robyn continued to volunteer with similar initiatives, assisting with various access to justice initiatives and helping people navigate the judicial system.
Robyn worked as a Legal Research and Writing Fellow with the University of Alberta Faculty of Law assisting in educating first-year law students. She continues to engage with the University of Alberta Faculty and University of Calgary Faculty to mentor and judge regional moot competitions.