Education
2013
University of Calgary, Juris Doctor (Dean's List)
2008
University of Alberta, BA (Distinction)
Philosophy and Psychology
Memberships
Canadian Bar Association
Calgary Bar Association
Alberta Civil Trial Lawyers Association
Association of Women Lawyers
Teaching Roles
Instructor
University of Calgary, Faculty of Law, Trial Advocacy
Instructor
Calgary Legal Guidance, Civil Law Training
Community
Pro Bono Law Alberta
Volunteer - Queen's Bench Amicus
(2013 - present)
University of Calgary
Volunteer - Mooting and Block Week
(2013 - present)
Calgary Legal Guidance
Volunteer
(2013 - present)
Awards & Recognition
2021 - 2023
Legal 500
Rising Star
Dispute Resolution: Alberta
2022 - 2023
Best Lawyers
Ones to Watch
Corporate and Commercial Litigation
2021 - 2022
Benchmark Litigation
Future Star
2018
Pro Bono Law Alberta
Above and Beyond Award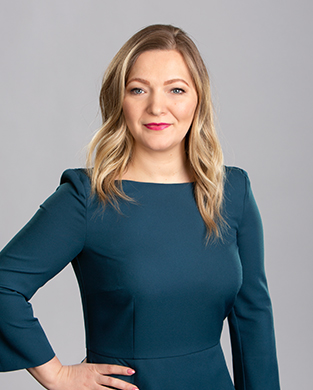 Cassandra Sutter has extensive experience in civil litigation across a broad range of practice areas and industries. Her practice areas include commercial disputes (domestic and international), contractual disputes, fraudulent conveyance & enforcement claims, property litigation, professional negligence, landlord-tenancy disputes, class actions, defamation and employment.
Cassandra focuses on practical solutions to her clients' needs and has significant courtroom experience.
Education
Originally from Medicine Hat, Alberta, Cassandra obtained her J.D. from the University of Calgary Law School - where she achieved Dean's List standing. Prior to law school, Cassandra obtained her BA, with distinction, in philosophy and psychology from the University of Alberta and worked as a rail traffic controller.
Cassandra first joined JSS Barristers as a Summer Student in 2012, then continued with her articles upon graduation, and has developed a growing general practice in civil litigation.
Civil Litigation Career
While at JSS Barristers, Cassandra has successfully represented individuals and corporations at all levels of Court in Alberta, including as lead counsel for trial at the Court of Queen's Bench and the Alberta Court of Appeal. Additionally, she has successfully represented clients before administrative bodies, beginning from the initial complaint and investigation, through the tribunal appeals and judicial review.
Experience as a Civil Litigation Lawyer
Given her work involving domestic and international commercial disputes, Cassandra has extensive experience in reviewing complex commercial agreements, therefore giving her the ability to identify relevant legal issues, conduct thorough research, and provide analysis on the interpretation and consideration of key provisions and applicable legal issues. This work has included a multi-million-dollar arbitration dispute concerning a Share Purchase Agreement and various claims alleging breach of representations and warranties.
With respect to her work involving International Chamber of Commerce (ICC) arbitral proceedings, Cassandra has a background in drafting necessary pleadings, navigating the ICC Rules of Arbitration, and communicating with the Secretariat, Arbitral Panel and opposing counsel to ensure efficient procedures are implemented and the arbitration proceeds as effectively as possible.
Cassandra has been involved in several high-profile matters. One of the most notable ones being her successful defence of a claim against a client in a case which engaged allegations under the Canadian Charter of Rights and Freedoms and a consideration of the existing governing legislation in Alberta. Further, she is co-counsel in N.B v Phillip Heerema, Calgary Stampede Foundation et al., a class action matter arising from the sexual exploitation and assault of numerous class members spanning decades.
Awards and Recognitions
Recently, Cassandra was recognized as Future Star by Benchmark Litigation, as One to Watch in Corporate and Commercial Litigation by Best Lawyers, and as Rising Star in Dispute Resolution (Alberta) by Legal 500. Prior to these achievements, she was also awarded the Above and Beyond Award by Pro Bono Law Alberta.
Personal
In her spare time, she enjoys travelling, various outdoor activities in the mountains and is an avid dog lover.
Speaking Engagements
Speaker
Legal Education Society of Alberta, "Rules of Court 2020, Rules 4.31 (Dismissal for Long Delay) and 4.33 (Drop Dead)" (2020)
Speaker
Calgary Bar Association - Civil Litigation subsection, "Anton Pillar Orders" (2018)
Speaker
Calgary Bar Association - Young Lawyers subsection, "The Missing Class from Law School - Practical Tips for Young Lawyers in the Legal World" (2018)
Speaker
Calgary Women Studying Law Association, "Anecdotes & Advice, Gender Bias" (2018)
Speaker
Legal Education Society of Alberta, "Effective Legal Support: Civil Litigation, Costs and Tips for Case Management" (2017)