Education
2018
University of Calgary, JD
2009
University of Calgary, BA
Memberships
Calgary Bar Association
Advocates Society
Canadian Bar Association
Community
Canadian Bar Association
Member - Federal Courts Bench and Bar Liaison Committee
(2022 to present)
Calgary Legal Guidance
Volunteer
(2019 - present)
Pro Bono Law Alberta
Volunteer - Civil Claims Duty Counsel
(2018 - present)
Volunteer - Queen's Bench Amicus
(2018 to present)
Alberta Institute for Wildlife Conservation
Member - Board of Directors
(2018 - present)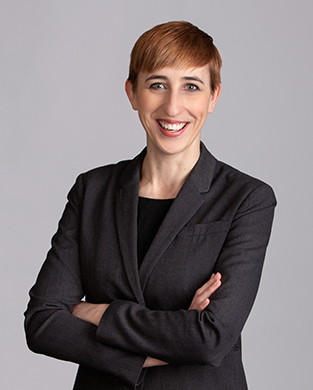 Sarah Miller has a civil litigation practice that focuses on employment, shareholder, environmental and regulatory disputes. She has successfully represented clients in the Provincial Court, the Court of Queen's Bench, the Court of Appeal, the Federal Court, and the Federal Court of Appeal. She has also represented clients before regulatory tribunals.
Sarah has a passion for the rule of law and procedural fairness. She has acted as counsel for clients faced with immeasurable odds against the government, multinational corporations, employers, and banks. A tireless advocate for the "little guy", Sarah strives to ensure that power differentials faced in life are balanced out in the courtroom. She has represented clients in many high-profile regulatory matters and is experienced at responding to media inquiries and managing the public relations side of litigation. Sarah also advises large organizations and corporate entities to streamline litigation and conducts efficient, cost-effective litigation.
Education
Sarah is a fourth generation, rural Albertan. She obtained both her Bachelor of Arts and Juris Doctor from the University of Calgary. After graduation she articled at a global law firm in Calgary, prior to joining JSS Barristers as an Associate in 2019. Additionally, Sarah has a breadth of legal experience, previously working in criminal prosecutions and in-house with both a public institution and a large energy company.
Community
During law school, Sarah successfully participated in the Alberta Court of Appeal Moot and the Western MacIntyre Cup Moot. Sarah was a caseworker with Student Legal Assistance, gaining litigation experience in criminal, civil and family matters. She also practiced poverty law and wrongful convictions in two clinical courses, was a program coordinator with Pro Bono Students Canada, and was involved with the Society of Law Students and the Calgary Bar Association.
In August 2022, Sarah was elected to the Canadian Bar Association's Federal Courts Bench and Bar Liaison Committee for the 2022-2024 term.
Personal
Sarah's passions are community and health. In her spare time, Sarah sits on the board of the Alberta Institute for Wildlife Conservation and enjoys amateur gardening, running, cult podcasts, and hot yoga.
Publications
"Chapter 9 [Judgments and Orders]"
LESA Alberta Civil Practice Manual 2023, Legal Education Society of Alberta, 2023, Alberta King's Printer
Author

"The Most Common Way People Give Up Power is by Thinking They Don't Have Any..."
JSSBarristers.ca, February 28, 2023
Co-author with Robert J. Hawkes KC

"The SCC Expands the Cause of Action for Constructive Taking"
JSSBarristers.ca, November 30, 2022
Co-author with Laura Warner

"Procedural Errors Result in Overturning Contempt Finding"
JSSBarristers.ca, November 18, 2022
Co-author with Gavin Price
"Unilateral Unpaid Leave of Absence May Not Trigger Constructive Dismissal"
JSSBarristers.ca, November 3, 2022
Co-author with Erin J. Baker

"Mandatory Vaccinations in the Workplace"
JSSBarristers.ca, July 22, 2021
Co-author (with Erin J. Baker)
JSSBarristers.ca, May 6, 2020
Co-Author (with Glenn Solomon QC, FCIArb & Daniel Gryba)
JSSBarristers.ca, April 15, 2020
Co-Author (with Glenn Solomon QC, FCIArb & Daniel Gryba)
JSSBarristers.ca, April 1, 2020
Co-Author (with Glenn Solomon QC, FCIArb & Daniel Gryba)
Media Coverage
Interviewee
"N.B. Court of Appeal Decision Provides 'Fulsome Overview' of Charter Law on Delay, Says Lawyer"
The Lawyer's Daily, September 7, 2022
Interviewee
"Alberta Law Experts Weigh In on Coutts Border Blockade"
Global News, February 2, 2022
Interviewee
"Alberta Hits Brakes on Traffic Court Changes"
The Lawyer's Daily, January 28, 2022
Interviewee
"Probation Order in Alberta COVID-19 Protest Case Raising Free Speech Concerns"
The Lawyer's Daily, October 20, 2021

Interviewee
"Changes Could Be On the Way for Fighting Traffic Violations in Alberta", Global News (https://globalnews.ca/news/8494169/alberta-traffic-courts-changes-justice-access/), January 6, 2022
Interviewee
"Vaccine Rights", CBC Calgary News at 11 (https://www.cbc.ca/player/play/1934312515662), August 17, 2021
Interviewee
"Union wants meat processors to receive vaccines", CTV News Calgary (https://calgary.ctvnews.ca/video?clipId=2127637), January 27, 2021
Presentations
Presenter
"Vaccines in the Workplace", Association of Community Services, Webinar, October 5, 2021