Education
2009
University of Alberta, LLB
2001
University of Alberta, BA (Distinction)
Teaching Roles
Legal Education Society of Alberta
Rules of Court 2020 (Updates on Rule 4.31 and Rule 4.33 - dismissal for delay)
Community
Panelist - Rocky Mountain Civil Liberties Association during public consultations regarding Alberta's Bill 10 and Bill 202 (dealing with proposed amendments to human rights legislation)
Awards & Recognition
2019 - 2022
Benchmark Litigation
Future Star
2018
Lexpert
Lawyer to Watch
Litigation: Corporate Commercial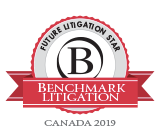 Laura carries on a generalized practice in civil litigation, with a focus on appellate advocacy, complex commercial disputes, and the judicial review of government decisions.
Laura prizes clear strategy, confident decision-making, and tactics that focus on the best possible return on investment for clients. She understands the commercial realities that clients face and regularly meets or exceeds the expectations mutually agreed to with clients. Laura strives to tackle complex issues with efficiency and clarity.
Laura has varied interests outside the practice of law. She volunteered for the Rocky Mountain Civil Liberties Association as a panelist during public consultations regarding Alberta's Bill 10 and Bill 202 dealing with proposed amendments to human rights legislation. She serves on the firm's diversity and inclusion committee. She also enjoys being active and spending time with her family. Laura continues to play ringette competitively in Calgary and volunteers as a coach with the Bowview Ringette Association.
---
Experience
While practicing at JSS, Laura has developed a burgeoning appellate practice. She has appeared before all levels of court in Alberta, before the Federal Court of Appeal, the Saskatchewan Court of Appeal, and the Supreme Court of Canada. Laura also has extensive experience with applications for leave to appeal to the Supreme Court of Canada and in appealing decisions of masters. She has also consulted in a behind-the-scenes co-counsel role in a successful appeal before the British Columbia Court of Appeal.
Laura has also been involved in complex commercial litigation and arbitration. She is often involved in factually- and document-intensive disputes involving tens of millions of dollars, such as an arbitral dispute resolved through a one-week hearing with over $100 million at issue.
Laura was also part of the JSS team retained on short notice by National Oilwell Varco for a 3½-month long trial in 2017, involving claims totaling more than $90 million arising out of a corporate acquisition, including an indemnity claim for alleged breaches of representation in the governing Purchase and Sale Agreement.
She also played a senior role in an international arbitration arising out of a Production Sharing Agreement in an emerging economy. This complex dispute involves over $100 million and will be resolved through a one-week hearing in Paris under the ICC Rules.
She is also playing a leading role in a complex commercial arbitration in the midstream market in Alberta. This dispute involves over $60 million and will be resolved through a multi-week hearing before an arbitral panel in 2022.
Laura also leads the team of JSS Barristers lawyers representing the Canadian Coalition for Firearms Rights and other applicants in a judicial review of the May 1, 2020 decision by the Federal Government to materially change its approach to firearm regulation. This complex case involves cutting edge legal issues related to the proper approach to reviewing executive government decisions.
Laura has played a central role in representing the province in its litigation against Canadian, US, and British tobacco companies.
In these complex disputes, Laura is called upon to analyze novel legal issues and distil them into persuasive, comprehensible arguments that the deciding tribunal can get behind. She also has extensive experience project managing these large files to ensure efficiency and good return on investment for the client.
Laura is also trained to conduct effective workplace investigations.
Laura graduated from the University of Alberta with a Bachelor of Arts (with distinction) in 2001 and an LLB in 2009.
Between her undergraduate degree and law school, Laura worked for a renowned management consulting firm where she taught mental toughness training to elite athletes and corporate clients. Laura developed expertise teaching topics such as how to perform under pressure, how to recover quickly from disappointing setbacks, and how to communicate effectively with teammates and colleagues. Laura practiced these skills in her own life where she competed for over 20 years as an elite athlete. She is a 2-time World Champion and 9-time National Champion in the sport of ringette and served as captain of the Canadian Ringette Team from 2002-2007. For these achievements, Laura has been inducted into the Ringette Canada Hall of Fame. She also brings experience as an entrepreneur, having previously co-owned, grown, and sold the pre-eminent ringette training company in Canada.
During law school, Laura volunteered with the civil branch of Student Legal Services. She consistently placed near the top of her class in law school and was the recipient of numerous scholarships and awards.
After graduating, Laura articled with the Court of Appeal in Edmonton, where she worked closely with the Justices and gained invaluable insight into effective advocacy. She then welcomed the challenge of clerking to Justice Rosalie Silberman Abella at the Supreme Court of Canada in Ottawa. During her one-year clerkship, Laura had a bird's eye view of the inner workings of the country's highest court and honed her analytical skills, her legal research and writing, and her oral advocacy.
---
Publications
"The Maple Leaf Foods Decision (or "The Judgement to Sink the Sub)"
The Annual Review of Civil Litigation 2021, The Honourable Mr. Justice Todd L. Archibald, ed. - 2021
Co-Author (with Carsten Jensen QC, FCIArb; Laura Warner & Dan Mills)
"Rabobank International v. Stout & Company: Auditors' Negligence Claims Remain Challenging Post-Livent"
The Advocates' Quarterly, Vol. 51, 2020
Co-Author (with Carsten Jensen QC,FCIArb & Kaila Eadie)
"Tort Liability in a COVID World, Part 4: Medical Negligence"
JSSBarristers.ca, May 19, 2020
Co-Author (with Sarah Bernamoff)
JSSBarristers.ca, May 5, 2020
Co-Author (with Kaila Eadie)
JSSBarristers.ca, April 17, 2020
Co-Author (with Sarah Bernamoff)
JSSBarristers.ca, April 8, 2020
Co-Author (with Glenn Solomon QC, FCIArb)
JSSBarristers.ca, April 7, 2020
Co-Author (with Kaila Eadie & Sarah Bernamoff)
"The Livent Decision - Two Years On (or Livent and the Amazing Technicolor of Torts)"
The Annual Review of Civil Litigation 2019, The Honourable Mr. Justice Todd L. Archibald, ed. - 2019
Co-Author (with Carsten Jensen QC, FCIArb)
---
Speaking Engagements
Interviewee
"COVID -19: Get ready for a wave of post-pandemic lawsuits, Alberta lawyers say", Edmonton Journal, (https://edmontonjournal.com/news/local-news/covid-19-get-ready-for-a-wave-of-post-pandemic-lawsuits-alberta-lawyers-say/), April 27, 2020