Education
2018
University of Alberta, JD
2014
MacEwan University, B.Comm
Community
University of Alberta Law School
Moot Mentor
(2016 - 2018)
Pro Bono Students Canada
Volunteer
(2016 - 2017)
Volunteer - Amicus Program
(2016 - 2017)
University of Alberta Student Legal Assistance
Volunteer
(2015 - 2016)
Awards & Recognition
David Pope is an associate with JSS Barristers. He is a graduate of the University of Alberta Law School, where he participated in two national moot competitions, winning one in 2018.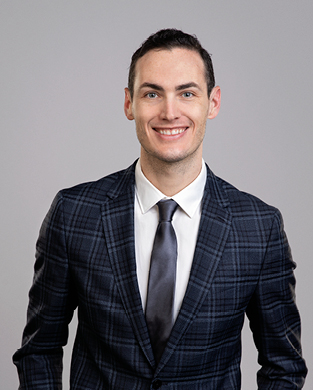 David Pope's practice focuses on a variety of areas including the resolution of corporate and commercial disputes, securities litigation, environmental and oil and gas litigation, and professional negligence. Before joining JSS Barristers as an Associate in 2021, David articled and practiced in the litigation practice group at a highly respected regional firm in Edmonton, AB.
David has successfully represented both individual and corporate clients in the Provincial Court of Alberta, the Alberta Court of Queen's Bench, and administrative proceedings.
Education
During law school, David was a member of the University of Alberta Faculty of Law Competitive Moot Program, winning the 2018 Wilson Moot. In the final round of the Wilson Moot, David had the opportunity to appear before The Right Honourable Richard Wagner PC, Chief Justice of Canada. David was also a member of the University of Alberta's 2017 Gale Cup team, winning the award for being the "Best Team Not in the Finals".
Community
Throughout his academic and professional career, David has volunteered in numerous capacities including with University of Alberta Student Legal Services, Pro Bono Students Canada, Pro Bono Law Alberta, the University of Alberta Faculty of Law Competitive Moot Program, and the University of Calgary Faculty of Law.
Personal
In his free time David enjoys golf, hockey, and travelling.