Bar Admissions
2014
Alberta
2012
British Columbia
Education
2011
University of Saskatchewan, JD
Memberships
Canadian Bar Association
The Advocates Society
Awards & Recognition
2022 - 2023
Best Lawyers
Corporate and Commercial Litigation
2020 - 2022

Benchmark Litigation
Top 40 & Under Hot List
2020 - 2022
Benchmark Litigation
Future Star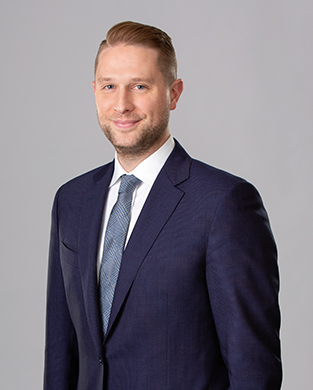 Ryan Phillips has been a Partner at JSS Barristers since 2020. He is an experienced advocate in commercial litigation and administrative law, including:
commercial and contract disputes

appeals

public law and judicial reviews

construction

professional negligence (non-medical)

insurance
Ryan has acted in many high stakes commercial and public law disputes throughout his career. In 2023, Ryan was named the Emerging Talent Alberta Litigator of the Year by Benchmark Litigation Canada Awards.
Education
Ryan graduated from law school at the University of Saskatchewan, achieving a Dean's List standing for academic excellence. In law school, he competed in the Gale Cup criminal-constitutional moot, and he studied abroad for a semester at Bond University on the Gold Coast of Australia. He was called to the British Columbia bar in 2012 before he moved to Calgary and joined JSS Barristers in 2014. Since 2021, Ryan has been a guest lecturer for the civil procedure law class at the University of Calgary.
Civil Litigation Career
Ryan has successfully represented clients in complex commercial arbitrations and a wide range of litigation at all levels of courts in Alberta, in the Federal Court of Canada, and in the superior courts of British Columbia and Saskatchewan. He has also successfully defended against leave applications to the Supreme Court of Canada. He acts for individuals, companies, and administrative bodies, including for the Office of the Information and Privacy Commissioner of Alberta in judicial reviews.
Experience
Some of Ryan's notable reported decisions include:
0678786 BC Ltd v Bennett Jones LLP, 2020 ABQB 115, 2021 ABCA 62 (leave to SCC denied), 2021 ABCA 197, 2022 ABQB 599
Fitter International Inc v British Columbia, 2021 ABCA 54 (leave to SCC denied)
Parker v Canada (Attorney General), 2021 FC 496, 2022 FC 1244
Just Freehold Energy Corp. v Doef's Greenhouses Ltd. et al, 2023 ABKB 137
Calgary (Police Service) v Alberta (Information and Privacy Commissioner), 2019 ABQB 109
Alberta Health Services v Information and Privacy Commissioner of Alberta, 2018 ABQB 467
Mohamed v College of Physicians and Surgeons of Alberta, 2019 ABQB 657
Bechir v Gowling Lafleur Henderson LLP, 2017 ABQB 214, 2017 ABQB 667
Rudichuk v Genesis Land Development Corp., 2017 ABQB 119, 2019 ABQB 132, 2020 ABCA 42
Goldring v Blue Cross Life Insurance Company of Canada, 2017 ABQB 618
Awards and Recognitions
Ryan received the award for Emerging Talent Alberta Litigator of the Year from the Benchmark Litigation Canada Awards 2023. In 2022, Ryan was recognized for his Corporate and Commercial Litigation Practice by Best Lawyers. Since 2020, he has been named Future Star, every year, by Benchmark Litigation, and named on Benchmark Litigation's Top 40 & Under Hot List.
Publications
"Interpretation of the "Resulting Damage" Exception to Coverage Exclusions"
JSSBarristers.ca, August 9, 2022
National Magazine, Canadian Bar Association, March 16, 2021
Co-Author (with Matthew Scott)
"Contractual Interpretations and the 'Surrounding Circumstances' - Six Years After Sattva"
JSSBarristers.ca, June 9, 2020
Co-Author (with Kaila Eadie)
JSSBarristers.ca, April 17, 2020
Co-Author (with Maureen McCartney-Cameron)
"Forum Shopping for Limitation Deadlines"
Statute of Limitations in International Commercial Claims, by David Franklin (Toronto, Ontario: Thomson Reuters, 2016), pp. 839-846
Co-Author (with Bryan Duguid QC, FCIArb)
"Third Party Claims in Construction Disputes"
CBA Construction Law Section, October 2019
Co-Author (with Geoff Boddy and Andrea MacLean)