Education
2001
University of Calgary, LLB
1997
University of Calgary, BSc (Zoology)
Memberships
Calgary Bar Association
Canadian Bar Association
ACTLA
The Advocates' Society
Community
Gavin volunteers at the Faculty of Law at the University of Calgary, including with the mooting and debating program. Gavin has also served on various community boards, including Calgary Legal Guidance, the Resicare Society (Resicare provides community-based support for people with disabilities) and the Progressive Alternatives Society of Calgary (PASC seeks to provide independence, community inclusion and quality of life for people with disabilities).
Awards & Recognition
2019 - 2023
Best Lawyers
Class Action Litigation
2021 - 2023
Best Lawyers
Corporate and Commercial Litigation
2017 - 2022
Benchmark Litigation
Litigation Star
2016
Benchmark Litigation
Future Star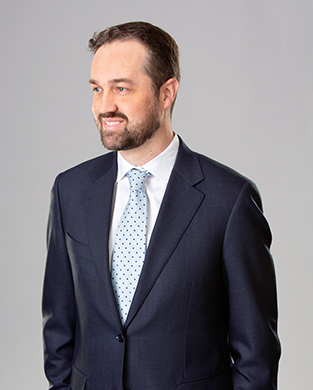 In 2003, Gavin Price joined JSS Barristers, commencing a full-time litigation practice, and became a Partner in 2010. Gavin served on the firm's Executive Committee from 2015 to early 2022, serving as Managing Partner from 2018 to 2020 and as Firm Chair from 2020 to early 2022.
Education
Gavin received his Bachelor of Science degree in Biology (Zoology) from the University of Calgary in 1997. He then attended the Faculty of Law at the University of Calgary, graduating in 2001.
Upon graduation, Gavin clerked at the Court of Appeal and the Court of Queen's Bench of Alberta. Following his clerkship, Gavin completed his articles at the Calgary offices of a large national law firm, practicing in securities and regulatory matters. He was called to the Alberta Bar in 2002.
Civil Litigation Career
Gavin's practice focuses primarily on class actions. Additionally, he regularly represents clients on corporate and commercial litigation matters, as well as professional negligence claims. He has appeared before the Provincial Court of Alberta, the Court of Queen's Bench of Alberta, the Alberta Court of Appeal, IIROC and the Alberta Securities Commission.
Class Action Experience
In the class action context, Gavin's current work includes complex cases involving sexual assault and sexual abuse, investor losses, securities misrepresentations, and product liability. In the professional negligence context, Gavin has represented lawyers on more than 60 negligence claims and continues to represent several defendant professionals in other ongoing negligence cases and professional regulatory matters.
Awards and Recognitions
Since 2017, Gavin has been named Litigation Star by Benchmark Litigation, every year. Additionally, Best Lawyers has recognized him for his Class Action Litigation practice, every year since 2019. Gavin has also received recognition in Corporate and Commercial Litigation by Best Lawyers, and was previously named Future Star by Benchmark Litigation.
Speaking Engagements
Panelist
"10 Things for the Litigator's Toolbelt & 10 Tips for Making Practice Better" (webinar), Legal Education Society of Alberta, April 20, 2021