August 13, 2020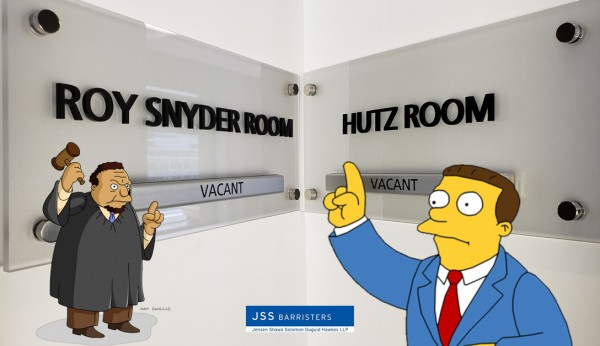 During the firm's office renovations of 2014, the executive committee was engaged in a hot debate topic: what do we name our new meeting rooms on the 7th floor?
While a lot of our floors are a mix of lawyer offices and meeting rooms, the 7th floor is especially unique because it's also the location of a state-of-the-art hearing room and two dedicated breakout rooms.
Ever since the firm's inception in 1995, the firm has cultivated an office culture that doesn't take itself too seriously. In a nod to the longest running American sitcom in history, the renovation committee suggested naming the two rooms after two of Springfield's most prominent legal figures: Judge Roy Snyder and Lionel Hutz.
Located beside the Five Corners hearing room (more on that in another article), the Roy Snyder and Hutz Rooms are identically equipped breakout rooms that allow the opposing sides to privately confer amongst themselves and store their materials. Each room also has its own audio-visual equipment and tele-conferencing systems. Both rooms also look out onto the bustling Stephen Avenue walkway.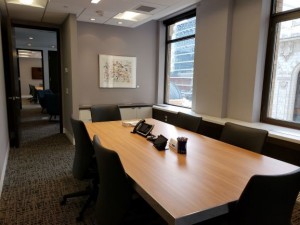 The Hutz Room featuring the artwork of Saskatchewan artist, Edward Epp.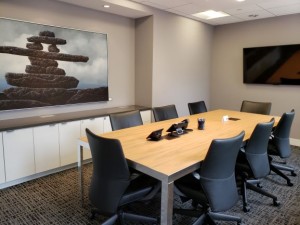 The Roy Snyder Room featuring the artwork of BC-based artist, Ken Kirkby.
Feel free to contact any members of our alternative dispute resolution team for more information about our practice. Our partners are also available for arbitrator and mediator appointments for both in-person and virtual proceedings.